Healthcare design is one of those branches of architecture that has been extensively discussed in terms of connecting science and art. Neuroaesthetics, a study that combines cognitive processes of defining the meaning of art, is an innovative discipline of Healthcare design.
When a person discovers something beautiful, there are laws and reasons that govern their emotions. In short, our brain functions and neurology are linked to our appreciation of art and beauty.
What Is Neuroaesthetics and How Do They Influence Perception?
Neuroaesthetics is best defined as the intersection of human evolution, neuroscience, and beauty perception. This discipline teaches us how our brain responds to aesthetics and how our perceptions of beauty develop.
Anyone can experience neuroaesthetics, which answers many questions about the impact of art and beauty on us. You may prefer one piece of art over another without knowing why.
Some people believe that different degrees of beauty can be assigned to objects and colors and that this is a human trait.
The topic has piqued the interest of academics from a variety of fields, including psychologists, historians, art therapists, and neuroscientists.
How to Approach and Better Understand Neuroaesthetics
If you want to learn more about neuroaesthetics, you should know that many of the principles it entails are derived from evolutionary biology, brain anatomy, and perceptual and cognitive branches of psychology.
Although art has long been used for healing, it is only recently that the scientific community has expressed interest in the subject.
As a sub-discipline of healthcare design, neuroaesthetics has opened up new avenues for approaching design in a way that serves the healing function.
The Influence of Hospital Design on Patients
Aesthetics are important in shaping public perception of a clinic or hospital. Patients prefer to seek treatment at hospitals with progressive and advanced infrastructure.
Architects must exercise extreme caution when designing healthcare facilities and must think beyond their traditional functionalities.
Patient comfort and ease should be prioritized in hospital design, and everything else should revolve around it.
Aside from patients, healthcare professionals and staff require an environment that allows them to function well while also reducing stress. They will be able to perform well and assist the patient as a result.
Healthcare is a stressful industry, and we frequently see doctors and nurses under extreme stress. To some extent, hospital design can help to alleviate this stress.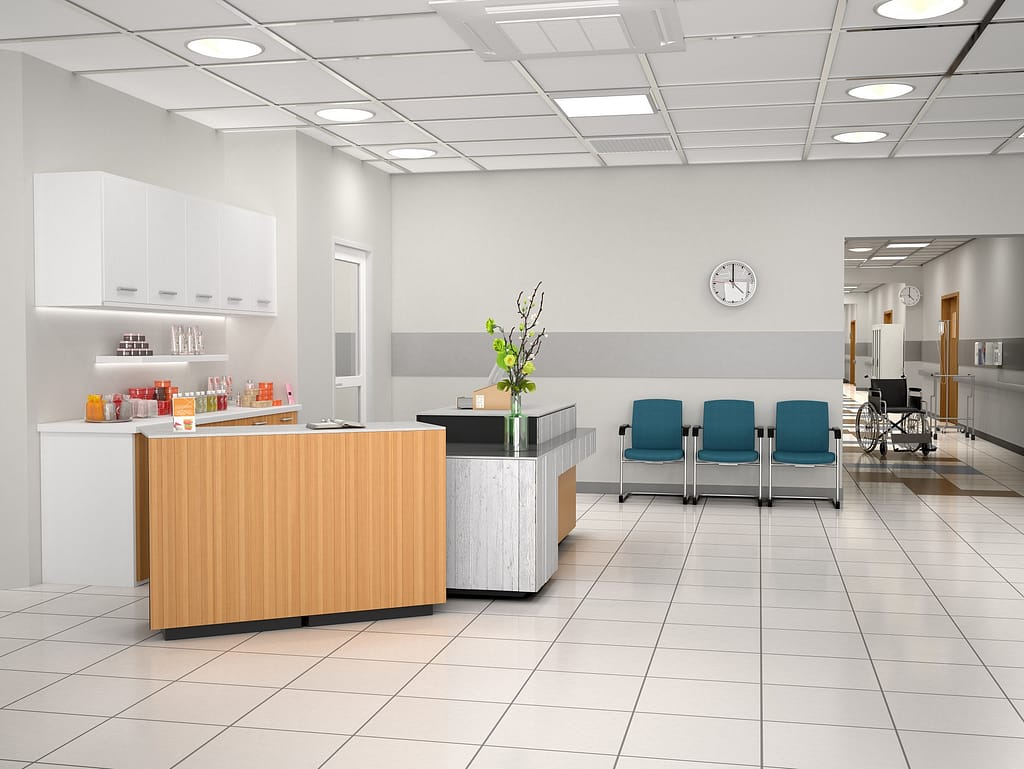 Visitors who accompany patients are another segment of the consumer base that a hospital serves. They could be attendants or the patient's friends and family. It is critical that even their brief interaction with the hospital be handled properly.
Do you need help redecorating your healthcare facilities? Please contact Stacey Denise.
Dr. Stacey Denise Moore is an Expert Neuroaesthetics on a mission to use art for the greater good. One of her main areas of interest is Healthcare Center Color Design, and she is deeply invested in transforming the traditional forms of Clinical and Hospital Interiors.
She believes that art if properly studied and applied, can significantly improve the way we live our lives.
You can also ask her for advice on how to improve the color design in your health and wellness space for a better patient experience.