Once again, the frosty weather has returned, and seasonal decor has suddenly appeared in each store Art Ideas to Transform Your Elementary Classroom . Every year is another opportunity to showcase your holiday spirit through creative displays and holiday decorations. Though many are quick to deck the halls in their homes, some fail to recognize their options within the classroom. As a teacher, you have the unique opportunity to bring the magic of the holiday season into your classrooms. This season, turn your classroom into a winter wonderland by trying one or more of the following art ideas.
1. Door Decor – A first impression sets the mood for the rest of the day. As your students enter the classroom, develop a creative mindset by displaying fun artwork on the classroom door. You may choose to cover the door in wrapping paper and tape letters or graphics on top. You may also choose to decorate the door with your student's drawings.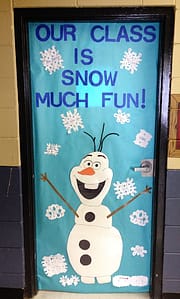 Copyright: Lisa Stastny
2. Pinecone Trees – This DIY is incredibly fun and easy. All you need are pinecones, corks, hot glue, and glitter. Dry out several pinecones and use hot glue to attach the end of the cork to the bottom of the pinecone. Once dry, use glitter or sequins to decorate the "branches." These decorations can be hung around the classroom or gifted to the students at the end of the season. If you desire, you can use a similar method to create a tabletop version of this tree by gluing pinecones onto a foam cone.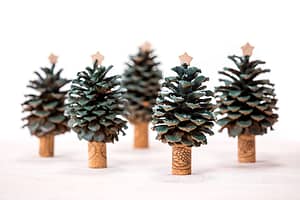 Copyright: Grateful
3. Candycane wreath – For this adorable wreath, gather together hot glue, ribbon, scissors, and–of course–candy canes. Plastic candy canes are recommended if you intend to save the wreath for the following year. Use hot glue to attach the long sides of each set of candy canes back to back. When dry, attach the hooks of each set of candy canes together to create heart shapes around a circle. Last, tie short ribbons to each pair of canes and create a loop at the top for hanging.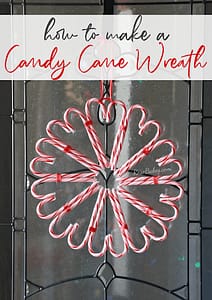 Copyright: Rose Atwater
4. Snowmen Garland – To create these dazzling snowmen, you'll need multicolor ribbons, paper glue, and construction paper. Cut two large-sized circles, two medium, and two small out of white construction paper. Take the two largest sizes, fold both in half, and glue them together at the fold. Do the same for the other two sizes. Once dry, flatten your circles on a table and stack them from smallest to largest. Glue your ribbon down the center to attach them, leaving enough ribbon on top to create a loop for hanging. Last, cut a small piece of ribbon to wrap around the neck of your snowman as a scarf. If you want, you could also use markers to draw buttons and a face.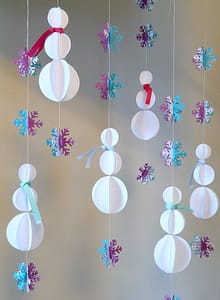 Copyright: anyoccasionbanners
5. Paper chain – Scissors, construction paper, and tape or a stapler are what you'll need for this easy craft. Carefully cut construction paper into thin rectangular strips. Create a ring by gluing or stapling one strip closed. Loop another strip through that ring and repeat until you have a chain of your desired length. For a Christmassy theme, alternately red and green colors.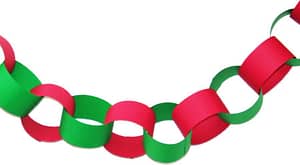 Copyright: Retro Planet
6. Bottle cap ornaments – If you have a lot of bottlecaps hanging around the house, this is a perfect craft for you. There are so many different designs to make with these awesome circles. You can glue them into flower-like designs, mini wreaths, or even snowmen. Paint them, glitter them, or leave them as they are–it's up to you! They are perfect crafts or gifts for your students. 

Copyright: Amy Latta Creations
7. Toilet Roll Rudolph – This craft utilizes something we all have easy access to–toilet paper rolls! Instead of tossing them into the bin, recycle them into this fun craft. Although you could certainly paint and decorate them any way you want, perhaps the easiest craft to make is Rudolph. Simply paint the roll a darker brown and adhere it to googly eyes and a red nose. Use a marker to give him a smile and attach short branches or pipe cleaners to the top of the roll to look like antlers.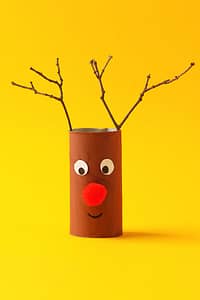 Copyright: Havalyn
Art Inspires Students
Art is a powerful inspiration for students and an excellent teaching tool. I hope these cute DIY projects help you add a touch of Christmas to your elementary classroom. Seeing your creativity might spark theirs and lead to a life-long love of and appreciation for art.