Design Your Home Office for Maximum Productivity and Health Today's world boasts a staggering 4.7 million remote workers in the United States. As technology and innovations make it easier to bring your day job into your home life, this number is expected to rise. Remote work poses several benefits for the employee. No more long commutes, business attire, and awkward bathroom break–but there are also a few cons. People who stay too long in one environment can feel unmotivated. Without a change of scenery, productivity can stagnate. 
Fortunately, you are in complete control of your environment! If your bland corner office is crushing your spirit, make a few changes. 
Brighten it up – Dark spaces not only strain your eyes but also cause drowsiness and a lack of motivation. If you can, move your work area to a section of the house with abundant natural light. According to research published by Eco-Business, workplaces with sufficient daylight saw an uplift of between 5 and 40% in productivity. If sunlight isn't available, make sure to implement bright overhead lighting to avoid headaches and eye damage. Here are a few more ways to incorporate light into your living space.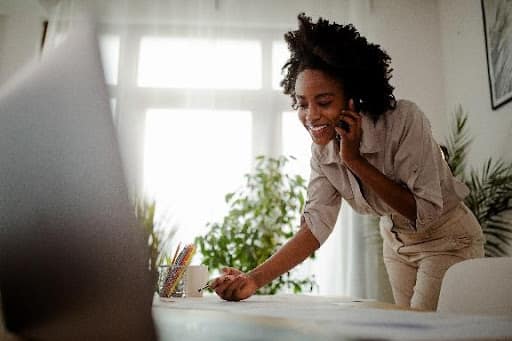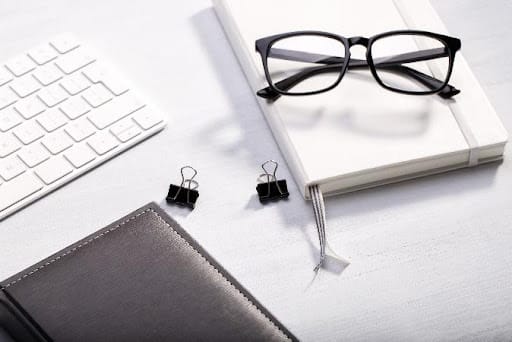 De-clutter your station – Is your workstation cluttered with knickknacks, papers, books, pens, and other things that often disappear when you're looking for them? A disordered environment leads to disordered thinking. Perhaps it's time to find a place for all your things, and you can make it fun! In fact, your organization can be part of your design. Place a set of baskets on your wall and fill each with loose papers, office supplies, and other important items. Use a framed chalkboard to label each basket. These baskets keep your supplies organized and within reach without getting in your way. They also make cute decorations for your wall.
Add some greenery – Green is a refreshing color that reminds people of nature and health. Incorporate it into your office to give it a fresh look. Using real plants provides the extra benefit of eliminating air pollutants. But if you don't trust yourself with living plants, you can still decorate using some lovely false-hanging ivy, ferns, or succulents. Green adds a pop of color to an otherwise plain room and goes well with wooden surfaces for a minimalistic style that reduces stress and feels open and alive. For other ways to decorate with nature, view my other article here.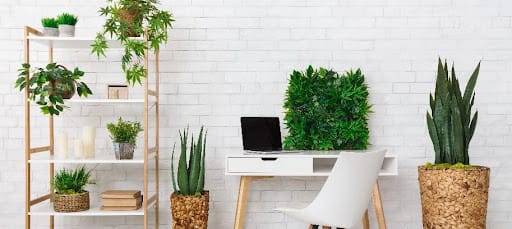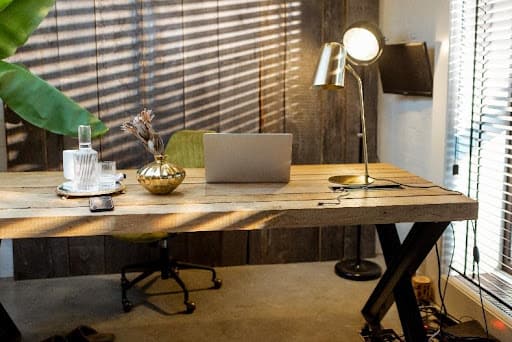 Personalize your accessories – Yes, it's an office and functionality is important, but it shouldn't be your only focus. An empty room with a desk, chair, computer, and keyboard may be all you need to write a book or design a website, but why commit yourself to prison when you have control over your environment? I'm not saying you need a string of lights on every bookshelf, but there are always places to add your personality. For instance, consider an accent rug beneath your feet or a photo wall beside your desk. Maybe that lamp you saw at the thrift store would illuminate the dark walls with elegant light, or a well-placed wicker basket could display your favorite throw blanket. The possibilities range from small to extravagant. You don't know how much you're missing until you tap into that wave of creativity and let your imagination guide you.
Maximize your space – Small office spaces are the worst, aren't they? Move your arm too far to the left, and your headlamp may go tumbling down. Sometimes, it's better to just find a spot in the house with more legroom, but if you can't, here are a few ways to make that itty bitty space feel and look more open. Have you considered a concealed desk? These hydraulic-hinged folding tables pop open and closed, allowing you to store away your desk when you're not using it. If you can't get a hold of one, you could instead install a wall-mounted desk that doubles as a shelf. You may also utilize wall space for extra storage.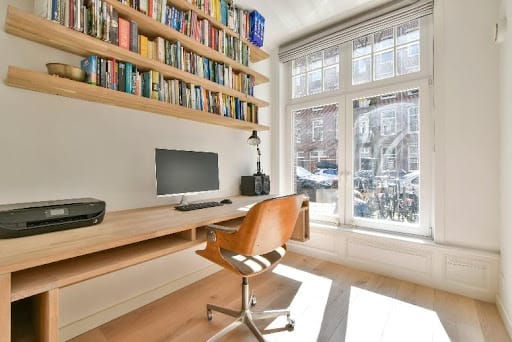 When you're living and working at home, the same old scenery can become boring and monotonous–even depressing! Fortunately, it doesn't have to be that way. Using the tips listed here, you can make your remote office a place where you feel inspired, comfortable, and productive.